Japanese Language in sialkot - Sialkot
Tuesday, 11 February 2020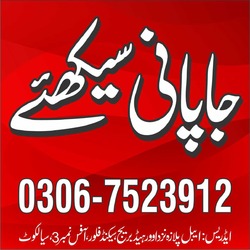 Contacts
Mian Irfan Muhammad
+923067523912
Item description
Dreaming of STUDYING in JAPAN? It's your time to STUDY IN JAPAN.
We will suggest you the BEST WAY to make your dreams come true!
Please contact
STUDY IN JAPAN Dear all student pleas
if you are really interested to study in japan in different city like TOKYO, OSAKA, TOCHIGI, FAKUOKA, SHIZUOKA etc in reasonable tuittion fee we are the authorize representative of different collage of japan. So harry up to garb the opportunities and also the japanese language classes are running.
Contact.
Mian Irfan Muhammad 03067523912 ,03000405600 0553732544.